Los softphones permiten a las empresas aprovechar el poder de VoIP en cualquier lugar de manera fácil y conveniente. Ya sea que desee una nueva forma de habilitar la movilidad para su equipo, o si desea equipar a sus empleados con herramientas de colaboración que mejoren el negocio, el softphone móvil es el complemento perfecto. A continuación se muestran 5 razones principales por las que necesita un teléfono móvil.
1) El anexo de la oficina en el bolsillo
Su teléfono inteligente ofrece una gran movilidad para hacer llamadas diarias, mensajes de texto y más. Sin embargo, cuando necesita atender una llamada de negocios, hay funciones que su celular simplemente no admite. Los softphones móviles, están diseñados para ofrecer una alternativa al uso de teléfono celular / inteligente estándar con algunas funciones VoIP empresariales.
Una de estas funciones es la capacidad de acceder a la central telefónica de la empresa, un softphone móvil puede convertir su teléfono inteligente en una extensión de la oficina con todas las funciones y le brinda la flexibilidad de trabajar desde cualquier lugar. Por ejemplo, con el softphone móvil Yeastar Linkus cuenta con todas las funciones de extensión de su oficina, como transferencia, parqueo en espera, conferencia, grabación, etc. Simplemente con un toque en la pantalla de su teléfono, puede revisar el correo de voz, buscar en el directorio de la oficina, marcar extensiones, transferir una llamada de negocios e incluso más. La productividad ya no sufre al estar lejos de la oficina. Y la preocupación de perder llamadas importantes también podría eliminarse, ya que su extensión comercial siempre está con usted.
2) La colaboración se consolida con las comunicaciones unificadas
La colaboración eficiente de un equipo se basa en varias herramientas de comunicación, sin embargo, demasiadas aplicaciones para colaborar pueden resultar en experiencias de comunicación fragmentada y un trabajo en equipo deficiente. Necesita una plataforma de comunicaciones unificadas, especialmente para la fuerza laboral móvil que tiene acceso limitado a los recursos de la oficina en casa o en constante movimiento o en el tráfico. Algunas de estas características incluyen:
Mensajería instantánea: le da a su equipo otra forma de colaborar internamente de forma gratuita; Un mensaje rápido es menos perturbador que una llamada telefónica y el chat grupal puede ser ideal para sesiones de lluvia de ideas.
Presencia: permite que los íconos de presencia indiquen si su compañero de trabajo está disponible, en una llamada, ocupado o fuera de línea, y sepa cuándo y cómo se puede contactar mejor con una nota de presencia personalizada.
Conferencia: realice llamadas de conferencia desde cualquier lugar a través de su teléfono móvil y reúna a personal de ventas, personal técnico o clientes para un debate urgente sobre el proyecto.
Uso compartido de archivos: comparta documentos, imágenes o cualquier tipo de archivos a través de cuadros de chat y agilice la colaboración en equipo.
Linkus, hace mucho más que hacer y recibir una llamada; Sirven como un centro de colaboración móvil donde su equipo se comunica y trabaja en equipo.
3) Mantener privado el número personal
Las empresas están optando por el BYOD (Bring your own device), los colaboradores no deberían tener múltiples dispositivos, uno para temas personale y otro para el trabajo, pero dar a los clientes acceso a su número de celular y de casa no es la forma en que prefiere manejar los negocios. Usar un softphone móvil puede ser una solución. Dado que los softphones se conectan a un sistema telefónico basado en la nube o local a través de Internet, simplemente son dispositivos externos a ese sistema telefónico. Eso significa que los trabajadores en movimiento pueden usar dicha aplicación para hacer y recibir llamadas comerciales en sus teléfonos inteligentes y evitar la necesidad de dar sus números personales.
4) Facilidad de uso y manejo
Uno de los mejores aspectos de los softphones móviles es que presentan una interfaz de usuario interactiva. Esto permite muchos accesos directos y mejoras al usar el teléfono. A continuación hay solo 3 ejemplos simples.
– Correo de voz visual: en lugar de tomarse el tiempo para navegar por las solicitudes del menú, revise sus mensajes de correo de voz en un formato visual. Los softphones móviles le permiten reproducir y administrar sus correos de voz desde la interfaz de usuario. No se requieren números de marcación o PIN.
– Grabaciones con un solo toque: con un simple toque en el ícono de "Grabación" en la interfaz de su llamada, el softphone móvil le permite grabar una llamada de forma fácil e inmediata.
– Notificaciones de llamadas entrantes: además de los tonos de llamada, los softphones le notificarán las llamadas entrantes a través de notificaciones emergentes con información de identificación de llamadas.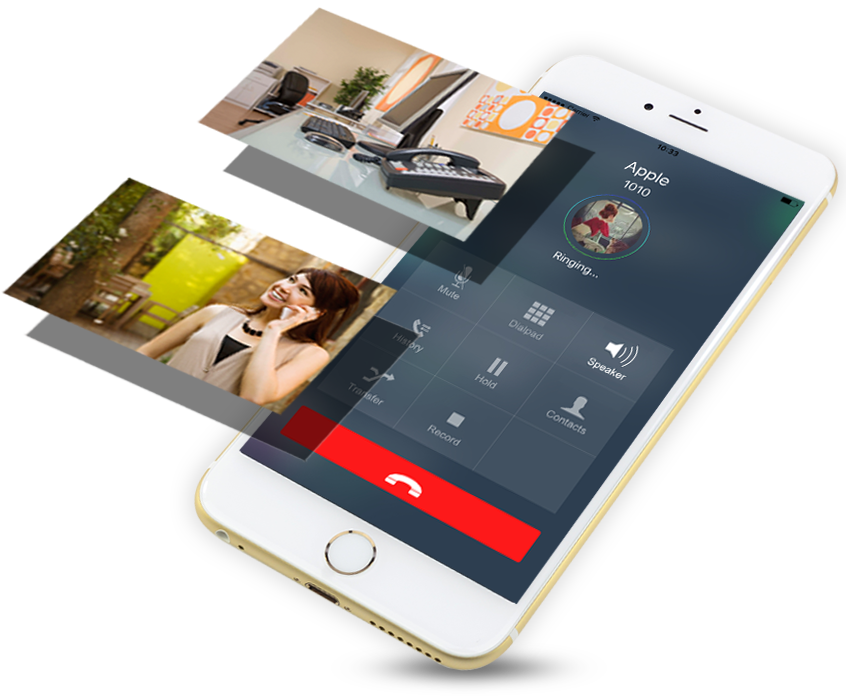 5) Costos de llamadas reducidas
En general, las llamadas de VoIP a VoIP son completamente gratuitas, y las tarifas internacionales y de larga distancia son mucho más bajas cuando se utiliza un softphone VoIP en comparación con la telefonía tradicional. Al utilizar un softphone que está registrado en el sistema de teléfono VoIP de su empresa, no se le cobrará por llamar a sus colegas, incluso desde el otro lado del mundo, y todas las llamadas externas desde y hacia su softphone móvil se facturará a su empresa, a tarifas más baratas por minuto que tu celular. El consumo de datos mensual, en promedio no supera los 300 megas (WiFi + datos 4G) con un uso alto de llamadas y baja compresión de audio para mantener la calidad de las llamadas.
Ya hace un tiempo vengo elaborando (y testeando) un mapa que muestra los puntos con WiFi gratuito en Lima.
La mayoria son restaurantes, bares, cafes y otros que ofrecen el servicio gratuitamente con el consumo que uno realice.
Hago publico este mapa para que sea de utilidad y me recomienden nuevos puntos para agregarlos.
Salu2
Miguel Rabi
miguellinux @ gizmo
Is stress making you frustrated and irritable? Stress relievers can help restore calm and serenity to your chaotic life. You don't have to invest a lot of time or thought into stress relievers. If your stress is getting out of control and you need quick relief, try one of these tips.
Get active
Virtually any form of physical activity can act as a stress reliever. Even if you're not an athlete or you're out of shape, exercise can still be a good stress reliever.
Physical activity can pump up your feel-good endorphins and other natural neural chemicals that enhance your sense of well-being. Exercise can also refocus your mind on your body's movements, which can improve your mood and help the day's irritations fade away. Consider walking, jogging, gardening, housecleaning, biking, swimming, weightlifting or anything else that gets you active.
Eat a healthy diet
Eating a healthy diet is an important part of taking care of yourself. Aim to eat a variety of fruits and vegetables, and whole grains.
Avoid unhealthy habits
Some people may deal with stress by drinking too much caffeine or alcohol, smoking, eating too much, or using illegal substances. These habits can harm your health.
Meditate
During meditation, you focus your attention and quiet the stream of jumbled thoughts that may be crowding your mind and causing stress. Meditation can instill a sense of calm, peace and balance that can benefit both your emotional well-being and your overall health.
Guided meditation, guided imagery, visualization and other forms of meditation can be practiced anywhere at any time, whether you're out for a walk, riding the bus to work or waiting at the doctor's office. You can also try deep breathing anywhere.
Laugh more
A good sense of humor can't cure all ailments, but it can help you feel better, even if you have to force a fake laugh through your grumpiness. When you laugh, it not only lightens your mental load but also causes positive physical changes in your body. Laughter fires up and then cools down your stress response. So read some jokes, tell some jokes, watch a comedy or hang out with your funny friends. Or give laughter yoga a try.
Connect with others
When you're stressed and irritable, your instinct may be to isolate yourself. Instead, reach out to family and friends and make social connections.
Social contact is a good stress reliever because it can offer distraction, provide support and help you tolerate life's up and downs. So take a coffee break with a friend, email a relative or visit your place of worship.
Got more time? Consider volunteering for a charitable group and help yourself while helping others.
Assert yourself
You might want to do it all, but you can't, at least not without paying a price. Learning to say no or being willing to delegate can help you manage your to-do list and your stress.
Saying yes may seem like an easy way to keep the peace, prevent conflicts and get the job done right. But it may actually cause you internal conflict because your needs and those of your family come second, which can lead to stress, anger, resentment and even the desire to exact revenge. And that's not a very calm and peaceful reaction.
Try yoga
With its series of postures and controlled-breathing exercises, yoga is a popular stress reliever. Yoga brings together physical and mental disciplines which may help you achieve peacefulness of body and mind. Yoga can help you relax and manage stress and anxiety.
Try yoga on your own or find a class — you can find classes in most communities. Hatha yoga, in particular, is a good stress reliever because of its slower pace and easier movements.
Get enough sleep
Stress can cause you to have trouble falling asleep. When you have too much to do — and too much to think about — your sleep can suffer. But sleep is the time when your brain and body recharge.
And the quality and amount of sleep you get can affect your mood, energy level, concentration and overall functioning. If you have sleep troubles, make sure that you have a quiet, relaxing bedtime routine, listen to soothing music, put clocks away, and stick to a consistent schedule. This kratom for sale online product can help you to treat insomnia and other sleep disorders.
Keep a journal
Writing down your thoughts and feelings can be a good release for otherwise pent-up emotions. Don't think about what to write — just let it happen. Write whatever comes to mind. No one else needs to read it, so don't strive for perfection in grammar or spelling.
Just let your thoughts flow on paper — or computer screen. Once you're done, you can toss out what you wrote or save it to reflect on later.
Get musical and be creative
Listening to or playing music is a good stress reliever because it can provide a mental distraction, reduce muscle tension and decrease stress hormones. Crank up the volume and let your mind be absorbed by the music.
If music isn't one of your interests, turn your attention to another hobby you enjoy, such as gardening, sewing, sketching — anything that requires you to focus on what you're doing rather than what you think you should be doing.
Seek counseling
If new stressors are challenging your ability to cope or if self-care measures just aren't relieving your stress, you may need to look for reinforcements in the form of therapy or counseling. Therapy also may be a good idea if you feel overwhelmed or trapped, if you worry excessively, or if you have trouble carrying out daily routines or meeting responsibilities at work, home or school.
Professional counselors or therapists can help you identify sources of your stress and learn new coping tools.
A healthy person needs 30 to 50 ounces of fluid per day.
Drinking fluids is crucial to staying healthy and maintaining the function of every system in your body, including your heart, brain, and muscles. Fluids carry nutrients to your cells, flush bacteria from your bladder, and prevent constipation. Mitragyna speciosa is a perfect healthy supplement to keep your vital organs in good shape.
Older adults often don't get enough fluids and risk becoming dehydrated, especially during summer when it's hotter and people perspire more. "Older people don't sense thirst as much as they did when they were younger. And that could be a problem if they're on a medication that may cause fluid loss, such as a diuretic," says Dr. Julian Seifter, a kidney specialist and associate professor of medicine at Harvard Medical School. Warning signs of dehydration include weakness, low blood pressure, dizziness, confusion, or urine that's dark in color. Hydrogen water is your best option for proper hydration.
To ward off dehydration, Dr. Seifter says that healthy people should get 30 to 50 ounces of water per day (about 1 to 1.5 liters), but not all at once. "The kidneys lose some ability to eliminate water as we age. It's important to stay hydrated gradually, throughout the day," he says. He recommends drinking water or juices and eating water-rich foods such as salads, fruit, and applesauce. "An easy way to stay hydrated gradually is by getting fluids at meals, with medicine, and socially," says Dr. Seifter.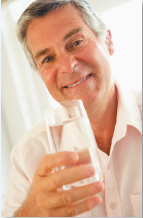 It's possible to take in too much water if you have certain health conditions, such as thyroid disease or kidney, liver, or heart problems, or if you're taking medications that make you retain water, such as nonsteroidal anti-inflammatory drugs (NSAIDs), opiate pain medications, and some antidepressants. Dr. Seifter says for that reason, you should check with your doctor to be sure you're getting the right amount.