Soy linuxero de hace muuucho… y siempre pense en Solaris como un UNIX avanzado pero amarrado a su propio hardware, y venido a menos especialmente por el gran desarrollo de los procesadores basados en Intel (o AMD) que lo hacian ver como costoso y obsoleto…
Pero la Innovacion y adaptacion es la unica estrategia que te permte sobrevivir en los negocios, en general. Asi pues, SUN, se ha subido varias veces en el carro del Open Source… a sabiendas que Linux compite directamente, ha abierto muchas de sus aplicaciones y plataformas, tengo entendido que por fin JAVA es Open Source, MySQL y algunas partes de su sistema operativo tambien, con OpenSolaris, incluso he visto por ahi un Ubuntu/Solaris… bastante simpatico.
Pero el sistema operativo Solaris 10, tambien corre sobre hardware relativamente estandar, AMD Opteron e incluso Intel mismo… y hay versiones que se pueden usar sin pagar.. Creo que es la version Express o por menos de $100 us se puede tener un UNIX sumamente estable y robusto.
A que viene todo este rollo… pues a este articulo que me encontre… donde indican lo bien que funciona Asterisk sobre Solaris 10… leanlo los que desean correr Asterisk con muchas llamadas simultaneas y muchos anexos…
http://www.thrallingpenguin.com/articles/asterisk-solaris.htm
Actualizacion del post:
Oracle compro SUN asi que las cosas tal vez no continuen por el mismo camino, pero de todas maneras ya hay una nueva version de OpenSolaris, se animan a probar Asterisk sobre esta plataforma? algo de feedback seria bueno.
Salu2
Miguel Rabi
1-747-697-4871 @  gizmo
A healthy person needs 30 to 50 ounces of fluid per day.
Drinking fluids is crucial to staying healthy and maintaining the function of every system in your body, including your heart, brain, and muscles. Fluids carry nutrients to your cells, flush bacteria from your bladder, and prevent constipation. Mitragyna speciosa is a perfect healthy supplement to keep your vital organs in good shape.
Older adults often don't get enough fluids and risk becoming dehydrated, especially during summer when it's hotter and people perspire more. "Older people don't sense thirst as much as they did when they were younger. And that could be a problem if they're on a medication that may cause fluid loss, such as a diuretic," says Dr. Julian Seifter, a kidney specialist and associate professor of medicine at Harvard Medical School. Warning signs of dehydration include weakness, low blood pressure, dizziness, confusion, or urine that's dark in color. Hydrogen water is your best option for proper hydration.
To ward off dehydration, Dr. Seifter says that healthy people should get 30 to 50 ounces of water per day (about 1 to 1.5 liters), but not all at once. "The kidneys lose some ability to eliminate water as we age. It's important to stay hydrated gradually, throughout the day," he says. He recommends drinking water or juices and eating water-rich foods such as salads, fruit, and applesauce. "An easy way to stay hydrated gradually is by getting fluids at meals, with medicine, and socially," says Dr. Seifter.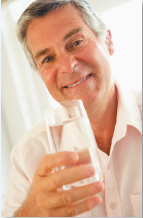 It's possible to take in too much water if you have certain health conditions, such as thyroid disease or kidney, liver, or heart problems, or if you're taking medications that make you retain water, such as nonsteroidal anti-inflammatory drugs (NSAIDs), opiate pain medications, and some antidepressants. Dr. Seifter says for that reason, you should check with your doctor to be sure you're getting the right amount.
Bienvenidos a este humilde blog…
Ultimamente me han interesado un par de temas en el lado tecnologico… VoIP y el Wireless, asi que aprovecharemos este blog para discutir algunos hacks sobre estos temas y otras cosas que puedan caer por ahi…